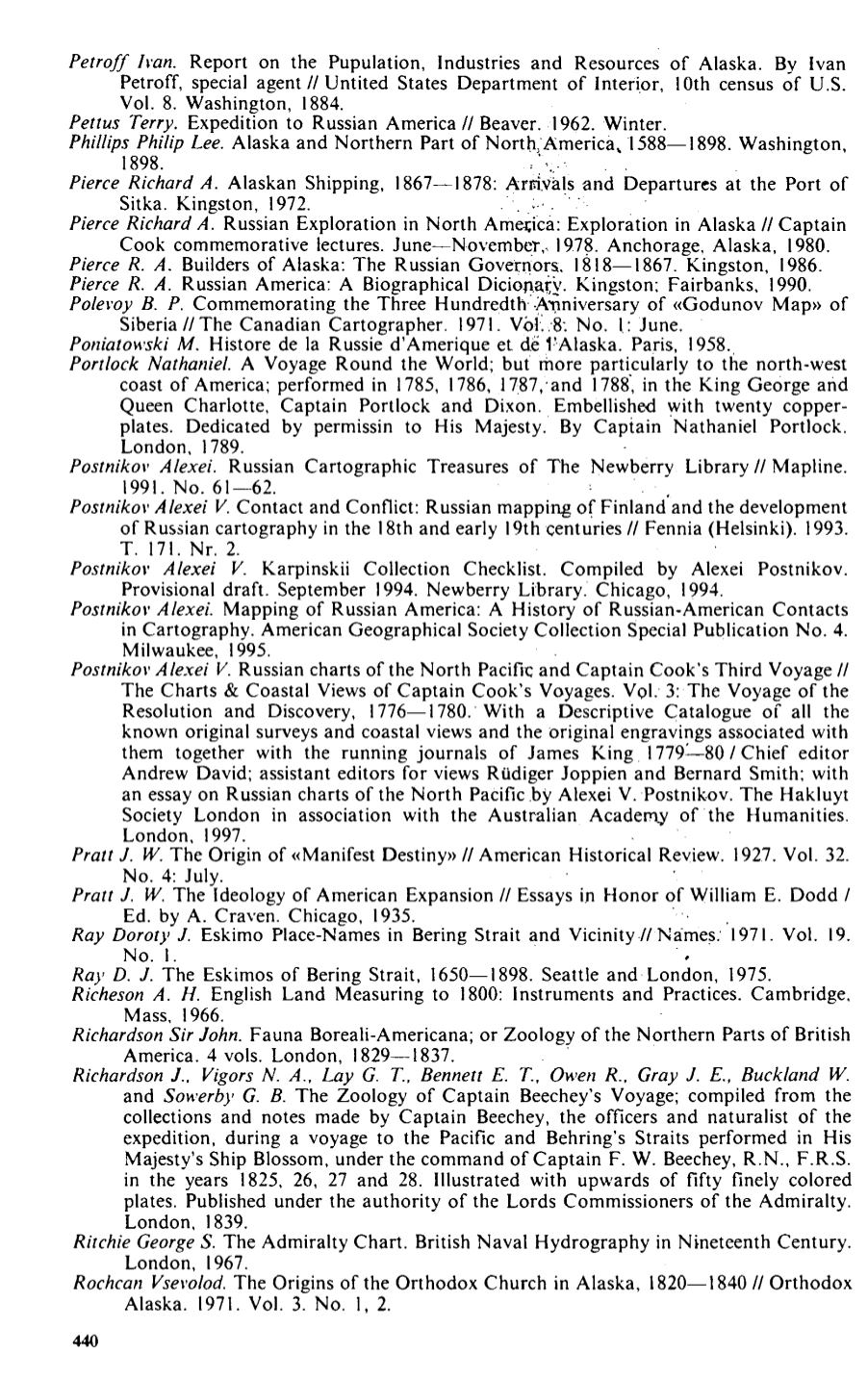 Petroff Ivan.
Report on the Pupulation, Industries and Resources of Alaska. By Ivan
Petroff, special agent/ / Untited States Department of Interior, 10th census of U.S.
Vol. 8. Washington, 1884.
Pettus Terry.
Expedition to Russian America/ / Beaver. 1962. Winter.
Phillips Philip Lee.
Alaska and Northern Part of North/America* 1588—1898. Washington,
Pierce Richard A.
Alaskan Shipping, 1867—1878: Arrivals and Departures at the Port of
Pierce Richard A.
Russian Exploration in North America: Exploration in Alaska/ / Captain
Cook commemorative lectures. June—November, 1978. Anchorage, Alaska, 1980.
Pierce R. A.
Builders of Alaska: The Russian Governors. 1818—1867. Kingston, 1986.
Pierce R. A.
Russian America: A Biographical Diciopaty. Kingston: Fairbanks, 1990.
Polevoy B. P.
Commemorating the Three Hundredth Anniversary of «Godunov Map» of
Siberia//The Canadian Cartographer. 1971. Vol.8'. No. 1: June.
Poniatowski M.
Histore de la Russie d'Amerique et de 1-Alaska. Paris, 1958.
Portlock Nathaniel.
A Voyage Round the World; but more particularly to the north-west
coast of America; performed in 1785, 1786, 1787, and 1788, in the King George and
Queen Charlotte, Captain Portlock and Dixon. Embellished with twenty copper­
plates. Dedicated by permissin to His Majesty. By Captain Nathaniel Portlock.
Postnikov Alexei.
Russian Cartographic Treasures of The Newberrv Library/ / Mapline.
Postnikov Alexei V.
Contact and Conflict: Russian mapping of Finland and the development
of Russian cartography in the 18th and early 19th centuries // Fennia (Helsinki). 1993.
Postnikov Alexei V.
Karpinskii Collection Checklist. Compiled by Alexei Postnikov.
Provisional draft. September 1994. Newberry Library. Chicago, 1994.
Postnikov Alexei.
Mapping of Russian America: A History of Russian-American Contacts
in Cartography. American Geographical Society Collection Special Publication No. 4.
Postnikov Alexei V.
Russian charts of the North Pacific and Captain Cook's Third Voyage //
The Charts & Coastal Views of Captain Cook's Voyages. Vol. 3: The Voyage of the
Resolution and Discovery, 1776—1780. With a Descriptive Catalogue of all the
known original surveys and coastal views and the original engravings associated with
them together with the running journals of James King 1779—80/Chief editor
Andrew David; assistant editors for views Rudiger Joppien and Bernard Smith; with
an essay on Russian charts of the North Pacific by Alexei V. Postnikov. The Hakluyt
Society London in association with the Australian Academy of the Humanities.
Pratt J. W.
The Origin of «Manifest Destiny» // American Historical Review. 1927. Vol. 32.
Pratt J. W.
The Ideology of American Expansion // Essays in Honor of William E. Dodd /
Ed. by A. Craven. Chicago, 1935.
Ray Doroty J.
Eskimo Place-Names in Bering Strait and Vicinity/ / Names. 1971. Vol. 19.
Ray D. J.
The Eskimos of Bering Strait, 1650—1898. Seattle and London, 1975.
Richeson A. H.
English Land Measuring to 1800: Instruments and Practices. Cambridge,
Richardson Sir John.
Fauna Boreali-Americana; or Zoology of the Northern Parts of British
America. 4 vols. London, 1829—1837.
Richardson J., Vigors N. A., Lay G. Ò., Bennett E. Ò., Owen R., Gray J. E., Buckland W.
Sowerby G. B.
The Zoology of Captain Beechey's Voyage; compiled from the
collections and notes made by Captain Beechey, the officers and naturalist of the
expedition, during a voyage to the Pacific and Behring's Straits performed in His
Majesty's Ship Blossom, under the command of Captain F. W. Beechey, R.N., F.R.S.
in the years 1825, 26, 27 and 28. Illustrated with upwards of fifty finely colored
plates. Published under the authority of the Lords Commissioners of the Admiralty.
Ritchie George S.
The Admiralty Chart. British Naval Hydrography in Nineteenth Century.
Rochcan Vsevolod.
The Origins of the Orthodox Church in Alaska, 1820—1840 // Orthodox
Alaska. 1971. Vol. 3. No. 1, 2.