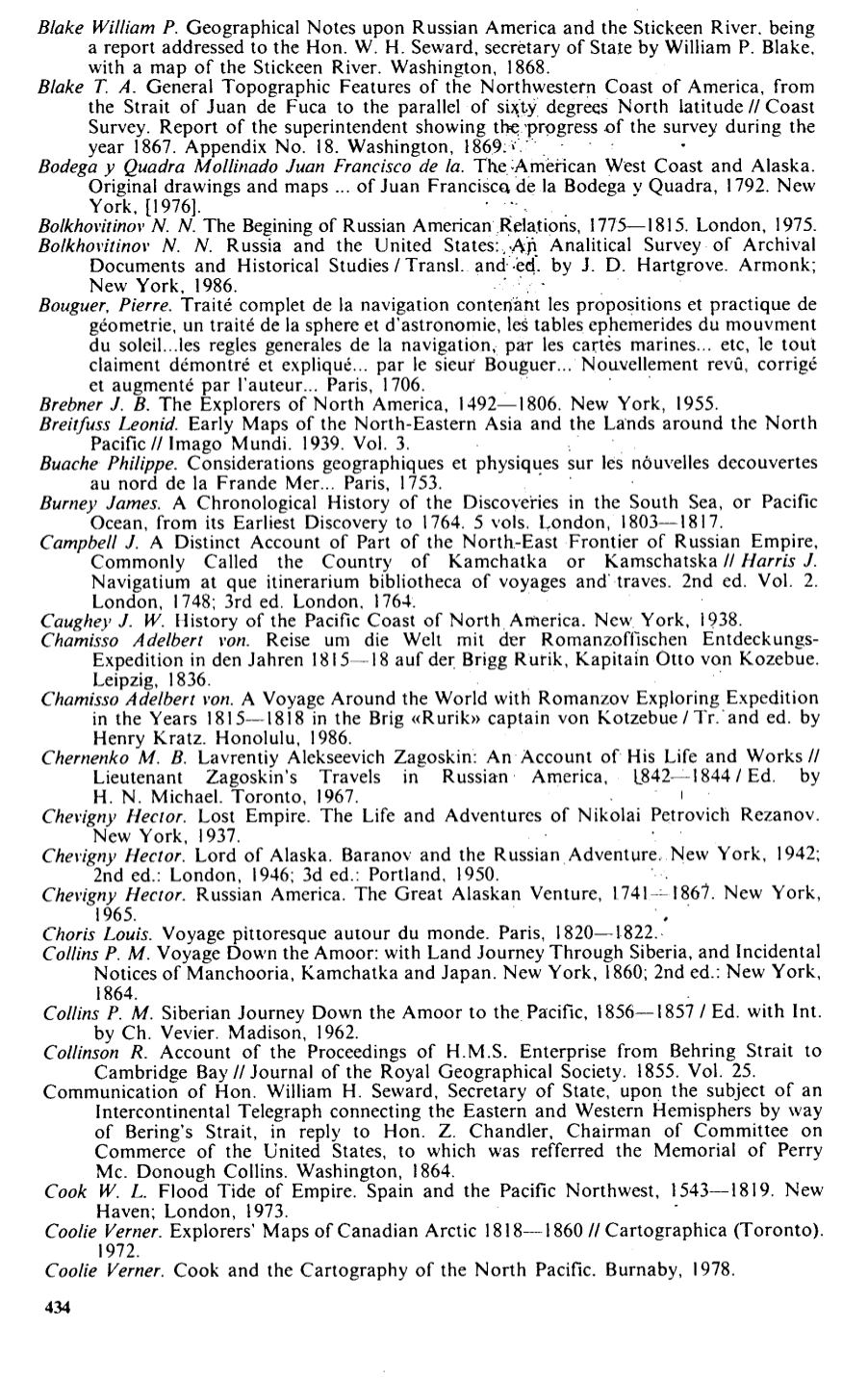 Blake William P.
Geographical Notes upon Russian America and the Stickeen River, being
a report addressed to the Hon. W. H. Seward, secretary of State by William P. Blake,
with a map of the Stickeen River. Washington, 1868.
Blake T. A.
General Topographic Features of the Northwestern Coast of America, from
the Strait of Juan de Fuca to the parallel of sixty degrees North latitude/ / Coast
Survey. Report of the superintendent showing the progress of the survey during the
year 1867. Appendix No. 18. Washington, 1869. >
Bodega ó Quadra Mollinado Juan Francisco de la.
The American West Coast and Alaska.
Original drawings and maps ... of Juan Francisco de la Bodega v Quadra, 1792. New
Bolkhovitinov N. N.
The Begining of Russian American Relations, 1775—1815. London, 1975.
Bolkhovitinov N. N.
Russia and the United States:, Aj\ Analitical Survey of Archival
Documents and Historical Studies / Transl. and ed. by J. D. Hartgrove. Armonk;
Bouguer, Pierre.
Traite complet de la navigation contenant les propositions et practique de
geometrie, un traite de la sphere et d'astronomie, les tables ephemerides du mouvment
du soleil. Jes regies generales de la navigation, par les cartes marines... etc, le tout
claiment demontre et explique... par le sieur Bouguer... Nouvellement revu, corrige
et augmente par l'auteur... Paris, 1706.
Brebner J. B.
The Explorers of North America, 1492—1806. New York, 1955.
Breitfuss Leonid.
Early Maps of the North-Eastern Asia and the Lands around the North
Pacific/ / Imago Mundi. 1939. Vol. 3.
Buache Philippe.
Considerations geographiques et physiques sur les nouvelles decouvertes
au nord de la Frande Mer... Paris, 1753.
Burney James.
A Chronological History of the Discoveries in the South Sea, or Pacific
Ocean, from its Earliest Discovery to 1764. 5 vols. London, 1803—1817.
Campbell J. A
Distinct Account of Part of the North-East Frontier of Russian Empire,
Commonly Called the Country of Kamchatka or Kamschatska //
Harris J.
Navigatium at que itinerarium bibliotheca of voyages and' traves. 2nd ed. Vol. 2.
London, 1748; 3rd ed. London, 1764.
Caughey J. W.
History of the Pacific Coast of North America. New York, 1938.
Chamisso Adelbert von.
Reise um die Welt mit der Romanzoffischen Entdeckungs-
Expedition in den Jahren 1815—18 auf der Brigg Rurik, Kapitain Otto von Kozebue.
Chamisso Adelbert von.
A Voyage Around the World with Romanzov Exploring Expedition
in the Years 1815—1818 in the Brig «Rurik» captain von Kotzebue / Tr. and ed. by
Henry Kratz. Honolulu, 1986.
Chernenko Ì. B.
Lavrentiy Alekseevich Zagoskin: An Account of His Life and Works//
Lieutenant Zagoskin's Travels in Russian America, 1842—1844 / Ed. by
H. N. Michael. Toronto, 1967.
Chevigny Hector.
Lost Empire. The Life and Adventures of Nikolai Petrovich Rezanov.
Chevigny Hector.
Lord of Alaska. Baranov and the Russian Adventure, New York, 1942;
2nd ed.: London, 1946; 3d ed.: Portland, 1950.
Chevigny Hector.
Russian America. The Great Alaskan Venture, 1741—1867. New York,
Choris Louis.
Voyage pittoresque autour du monde. Paris, 1820—1822.
Collins P. M.
Voyage Down the Amoor: with Land Journey Through Siberia, and Incidental
Notices of Manchooria, Kamchatka and Japan. New York, 1860; 2nd ed.: New York,
Collins P. M.
Siberian Journey Down the Amoor to the Pacific, 1856—1857 / Ed. with Int.
by Ch. Vevier. Madison, 1962.
Collinson R.
Account of the Proceedings of H.M.S. Enterprise from Behring Strait to
Cambridge Bay//Journal of the Royal Geographical Society. 1855. Vol. 25.
Communication of Hon. William H. Seward, Secretary of State, upon the subject of an
Intercontinental Telegraph connecting the Eastern and Western Hemisphers by way
of Bering's Strait, in reply to Hon. Z. Chandler, Chairman of Committee on
Commerce of the United States, to which was refferred the Memorial of Perry
Me. Donough Collins. Washington, 1864.
Cook W. L.
Flood Tide of Empire. Spain and the Pacific Northwest, 1543—1819. New
Coolie Verner.
Explorers' Maps of Canadian Arctic 1818—1860 // Cartographica (Toronto).
Coolie Verner.
Cook and the Cartography of the North Pacific. Burnaby, 1978.