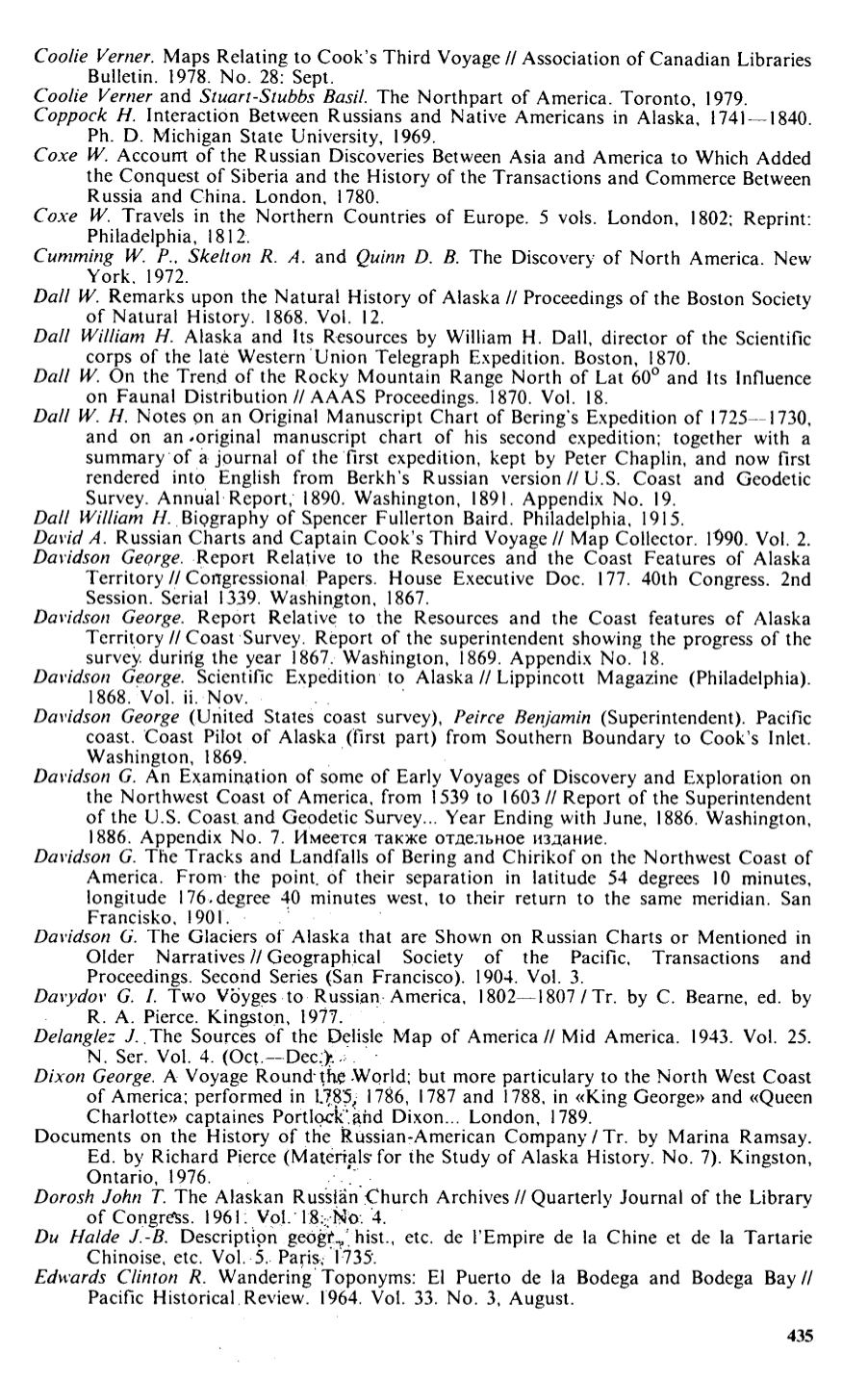 Coolie Verner.
Maps Relating to Cook's Third Voyage // Association of Canadian Libraries
Bulletin. 1978. No. 28: Sept.
Coolie Verner
Stuart-Stubbs Basil.
The Northpart of America. Toronto, 1979.
Coppock H.
Interaction Between Russians and Native Americans in Alaska, 1741—1840.
Ph. D. Michigan State University, 1969.
Coxe W.
Account of the Russian Discoveries Between Asia and America to Which Added
the Conquest of Siberia and the History of the Transactions and Commerce Between
Russia and China. London, 1780.
Coxe W.
Travels in the Northern Countries of Europe. 5 vols. London, 1802; Reprint:
Cumming W. P., Skelton R. A.
Quinn D. B.
The Discovery of North America. New
Dali W.
Remarks upon the Natural History of Alaska // Proceedings of the Boston Society
of Natural History. 1868. Vol. 12.
Dali William H.
Alaska and Its Resources by William H. Dali, director of the Scientific
corps of the late Western Union Telegraph Expedition. Boston, 1870.
Dali W.
On the Trend of the Rocky Mountain Range North of Lat 60° and Its Influence
on Faunal Distribution/ / AAAS Proceedings. 1870. Vol. 18.
Dali W. H.
Notes on an Original Manuscript Chart of Bering's Expedition of 1725—1730,
and on an -original manuscript chart of his second expedition; together with a
summary of a journal of the first expedition, kept by Peter Chaplin, and now first
rendered into English from Berkh's Russian version // U.S. Coast and Geodetic
Survey. Annual Report, 1890. Washington, 1891. Appendix No. 19.
Dali William H.
BiQgraphy of Spencer Fullerton Baird. Philadelphia, 1915.
David A.
Russian Charts and Captain Cook's Third Voyage// Map Collector. 1990. Vol. 2.
Davidson George.
Report Relative to the Resources and the Coast Features of Alaska
Territory/ / Congressional Papers. House Executive Doc. 177. 40th Congress. 2nd
Session. Serial 1339. Washington, 1867.
Davidson George.
Report Relative to the Resources and the Coast features of Alaska
Territory/ / Coast Survey. Report of the superintendent showing the progress of the
survey, during the year 1867. Washington, 1869. Appendix No. 18.
Davidson George.
Scientific Expedition to Alaska // Lippincott Magazine (Philadelphia).
Davidson George
(United States coast survey),
Peirce Benjamin
(Superintendent). Pacific
coast. Coast Pilot of Alaska (first part) from Southern Boundary to Cook's Inlet.
Davidson G.
An Examination of some of Early Voyages of Discovery and Exploration on
the Northwest Coast of America, from 1539 to 1603 // Report of the Superintendent
of the U.S. Coast and Geodetic Survey... Year Ending with June, 1886. Washington,
1886. Appendix No. 7. Èìååòñÿ òàêæå îòäåëüíîå èçäàíèå.
Davidson G.
The Tracks and Landfalls of Bering and Chirikof on the Northwest Coast of
America. From the point, of their separation in latitude 54 degrees 10 minutes,
longitude 176. degree 40 minutes west, to their return to the same meridian. San
Davidson G.
The Glaciers of Alaska that are Shown on Russian Charts or Mentioned in
Older Narratives/ / Geographical Society of the Pacific, Transactions and
Proceedings. Second Series (San Francisco). 1904. Vol. 3.
Davydov G. I.
Two Voyges to Russian America, 1802—1807/Tr. by C. Bearne, ed. by
R. A. Pierce. Kingston, 1977.
Delanglez J.
The Sources of the Delisle Map of America //Mid America. 1943. Vol. 25.
N. Ser. Vol. 4. (Oct.—Dec.);..
Dixon George.
A Voyage Round'the World; but more particulary to the North West Coast
of America; performed in 1.785, 1786, 1787 and 1788, in «King George» and «Queen
Charlotte» captaines Portlpck'and Dixon... London, 1789.
Documents on the History of the Russian-American Company/Tr. by Marina Ramsay.
Ed. by Richard Pierce (Materials-for the Study of Alaska History. No. 7). Kingston,
Dorosh John T.
The Alaskan Russian Church Archives/ / Quarterly Journal of the Library
of CongrdSs. 1961. Vol. 18./No. 4.
Du Halde J.-B.
Description gedgri/hist., etc. de l'Empire de la Chine et de la Tartarie
Chinoise, etc. Vol. 5. Paris, 1735.
Edwards Clinton R.
Wandering Toponyms: El Puerto de la Bodega and Bodega Bay//
Pacific Historical Review. 1964. Vol. 33. No. 3, August.