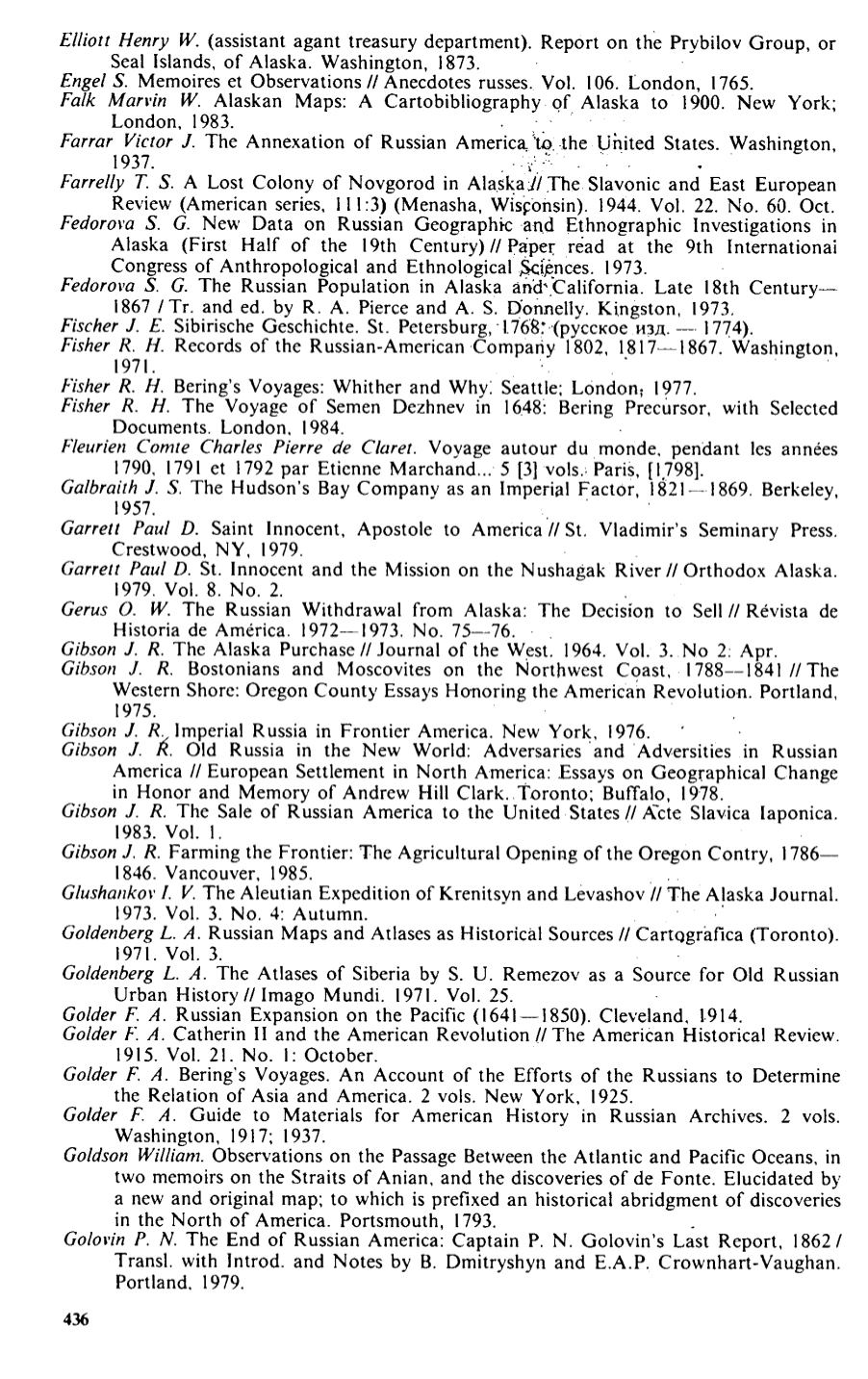 Elliott Henry W.
(assistant agant treasury department). Report on the Prybilov Group, or
Seal Islands, of Alaska. Washington, 1873.
Engel S.
Memoires et Observations/ / Anecdotes russes. Vol. 106. London, 1765.
Falk Marvin W.
Alaskan Maps: A Cartobibliography of Alaska to 1900. New York;
Farrar Victor J.
The Annexation of Russian America to the United States. Washington,
Farrelly T. S.
A Lost Colony of Novgorod in Alaska
jl
The Slavonic and East European
Review (American series, 111:3) (Menasha, Wisponsin). 1944. Vol. 22. No. 60. Oct.
Fedorova S. G.
New Data on Russian Geographic and Ethnographic Investigations in
Alaska (First Half of the 19th Century)/ / Paper read at the 9th International
Congress of Anthropological and Ethnological Sciences. 1973.
Fedorova S. G.
The Russian Population in Alaska and'California. Late 18th Century—
1867 / Tr. and ed. by R. A. Pierce and A. S. Donnelly. Kingston, 1973.
Fischer J. E.
Sibirische Geschichte. St. Petersburg, Y768: (ðóññêîå èçä.— 1774).
Fisher R. H.
Records of the Russian-American Company 1802, 1817—1867. Washington,
Fisher R. H.
Bering's Voyages: Whither and Why! Seattle; London; 1977.
Fisher R. H.
The Voyage of Semen Dezhnev in 1648: Bering Precursor, with Selected
Fleurien Comte Charles Pierre de Claret.
Voyage autour du monde, pendant les annees
1790, 1791 et 1792 par Etienne Marchand... 5 [3] vols.; Paris, [1,798].
Galbraith J. S.
The Hudson's Bay Companv as an Imperial Factor, 1821—1869. Berkeley,
Garrett Paul D.
Saint Innocent, Apostole to America // St. Vladimir's Seminary Press.
Garrett Paul D.
St. Innocent and the Mission on the Nushagak River/ / Orthodox Alaska.
Gerus O. W.
The Russian Withdrawal from Alaska: The Decision to Sell // Revista de
Historia de America. 1972—1973. No. 75—76.
Gibson J. R.
The Alaska Purchase/ / Journal of the West. 1964. Vol. 3. No 2: Apr.
Gibson J. R.
Bostonians and Moscovites on the Northwest Coast, 1788—1841//The
Western Shore: Oregon County Essays Honoring the American Revolution. Portland,
Gibson J. R
.Imperial Russia in Frontier America. New York, 1976.
Gibson J. R.
Old Russia in the New World: Adversaries and Adversities in Russian
America // European Settlement in North America: Essays on Geographical Change
in Honor and Memory of Andrew Hill Clark. Toronto; Buffalo, 1978.
Gibson J. R.
The Sale of Russian America to the United States/ / Acte Slavica Iaponica.
Gibson J. R.
Farming the Frontier: The Agricultural Opening of the Oregon Contry, 1786—
Glushankov I. V.
The Aleutian Expedition of Krenitsyn and Levashov // The Alaska Journal.
1973. Vol. 3. No. 4: Autumn.
Goldenberg F. A.
Russian Maps and Atlases as Historical Sources // Cartqgrafica (Toronto).
Goldenberg F. A.
The Atlases of Siberia by S. U. Remezov as a Source for Old Russian
Urban History // Imago Mundi. 1971. Vol. 25.
Golder F. A.
Russian Expansion on the Pacific (1641—1850). Cleveland, 1914.
Golder F. A.
Catherin II and the American Revolution/ / The American Historical Review.
1915. Vol. 21. No. I: October.
Golder F. A.
Bering's Voyages. An Account of the Efforts of the Russians to Determine
the Relation of Asia and America. 2 vols. New York, 1925.
Golder F. A.
Guide to Materials for American History in Russian Archives. 2 vols.
Goldson William.
Observations on the Passage Between the Atlantic and Pacific Oceans, in
two memoirs on the Straits of Anian, and the discoveries of de Fonte. Elucidated by
a new and original map; to which is prefixed an historical abridgment of discoveries
in the North of America. Portsmouth, 1793.
Golovin P. N.
The End of Russian America: Captain P. N. Golovin's Last Report, 1862/
Transl. with Introd. and Notes by B. Dmitryshyn and E.A.P. Crownhart-Vaughan.