193 / 194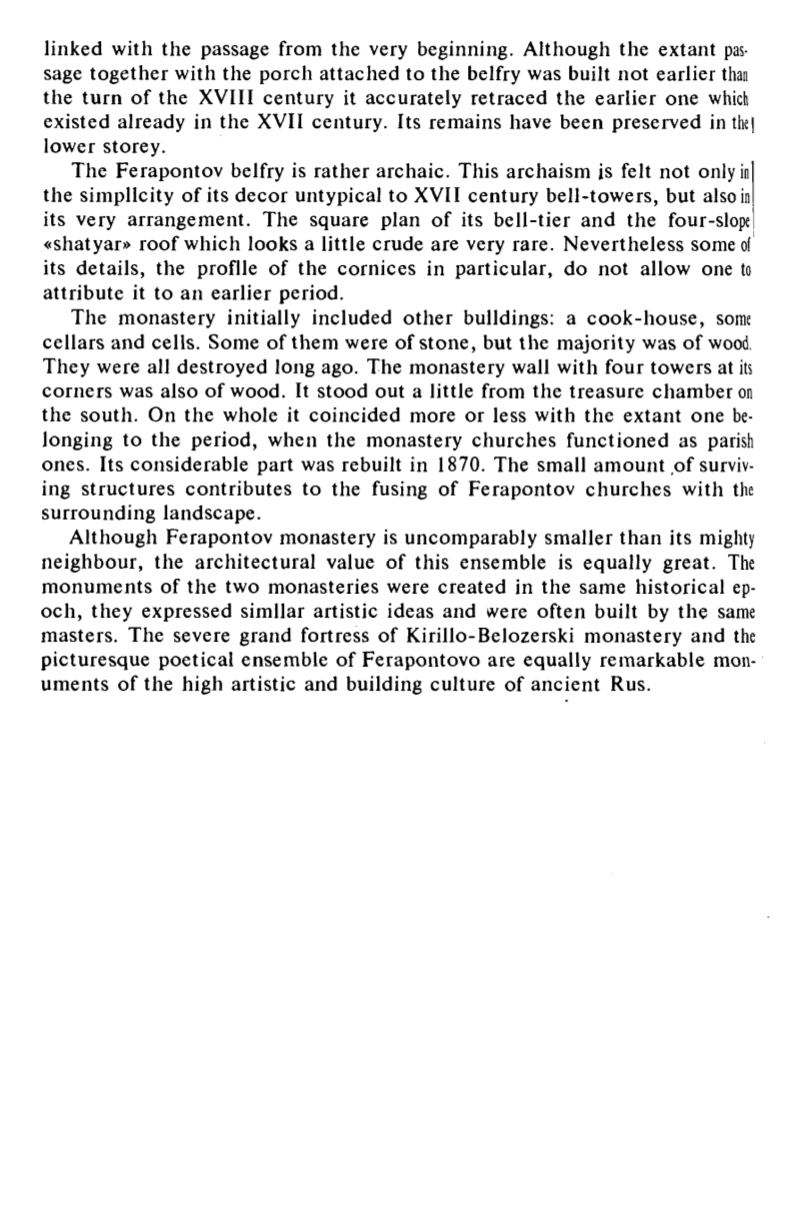 linked with the passage from the very beginning. Although the extant pas­
sage together with the porch attached to the belfry was built no t earlier than
the tu rn o f the XVIII century it accurately retraced the earlier one which
existed already in the XVII century. Its remains have been preserved in the]
lower storey.
The Ferapontov belfry is rather archaic. This archaism is felt not only in
the simplicity of its decor untypical to XVII century bell-towers, but also in
its very arrangement. The square plan o f its bell-tier and the four-slope
«shatyar» roof which looks a little crude are very rare. Nevertheless some of
its details, the profile of the cornices in particular, do not allow one to
attribute it to an earlier period.
The monastery initially included o ther buildings: a cook -house , some
cellars and cells. Some of them were of stone, but the majority was of wood,
They were all destroyed long ago. The monastery wall with four towers at its
corners was also of wood. It stood out a little from the treasure chamber on
the south. On the whole it coincided more or less with the extant one be­
longing to the period, when the monastery churches functioned as parish
ones. Its considerable part was rebuilt in 1870. The small amoun t o f surviv­
ing structures contributes to the fusing of Ferapontov churches with the
surrounding landscape.
Although Ferapontov monastery is uncomparably smaller than its mighty
neighbour, the architectural value of this ensemble is equally great. The
monumen ts of the two monasteries were created in the same historical ep­
och , they expressed similar artistic ideas and were often built by the same
masters. The severe grand fortress of Kirillo-Belozerski monastery and the
picturesque poetical ensemble of Ferapontovo are equally remarkable mon­
uments o f the high artistic and building culture of ancient Rus.