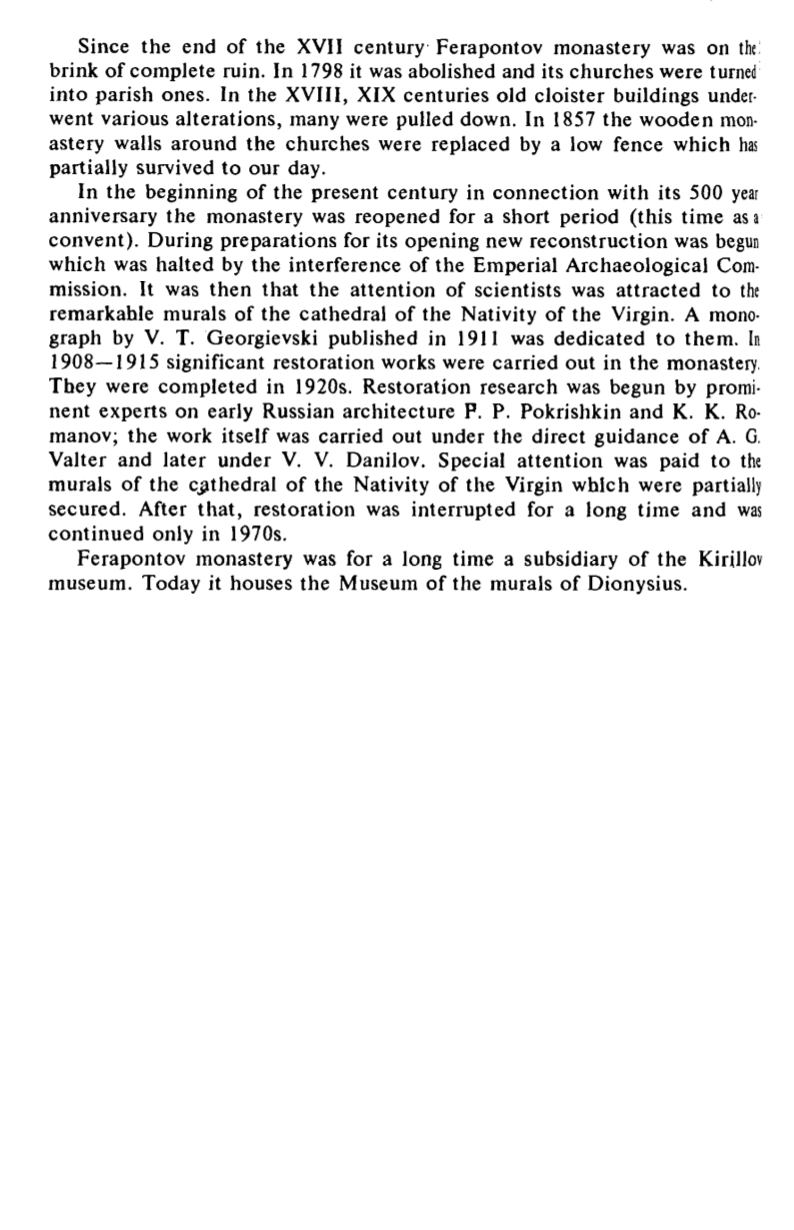 Since the end of the XVII century Ferapontov monastery was on the
brink o f complete ruin. In 1798 it was abolished and its churches were turned
in to parish ones. In the XVIII, XIX centuries old cloister buildings under­
went various alterations, many were pulled down. In 1857 the wooden mon­
astery walls a round the churches were replaced by a low fence which has
partially survived to our day.
In the beginning of the present century in connection with its 500 year
anniversary the monastery was reopened for a short period (this time as a
convent). During preparations for its opening new reconstruction was begun
which was halted by the interference of the Emperial Archaeological Com­
mission. It was then that the atten tion of scientists was attrac ted to the
remarkahle murals of the cathedral o f the Nativity o f the Virgin. A mono­
graph by V. T. Georgievski published in 1911 was dedicated to them. In
1908—1915 significant restoration works were carried out in the monastery,
They were comp leted in 1920s. Restoration research was begun by promi­
nent experts on early Russian architecture P. P. Pokrishkin and К. K. Ro­
manov; the work itself was carried out under the direct guidance o f A. G.
Valter and later under V. V. Danilov. Special atten tion was paid to the
murals o f the cathedral o f the Nativity of the Virgin which were partially
secured. After tha t, restoration was interrupted for a long time and was
con tinued only in 1970s.
Ferapon tov monastery was for a long time a subsidiary o f the Kirillov
museum. Today it houses the Museum o f the murals o f Dionysius.